For E, the birthday gift is already decided (and was quite a while back). At four, we think it's important to have a special doll--one that favors the child and one who can become a vessel for all the projected questions, thoughts, fears, excitement etc. The face is ready for any expression and free to be interpreted anyway she'd need. Here she is!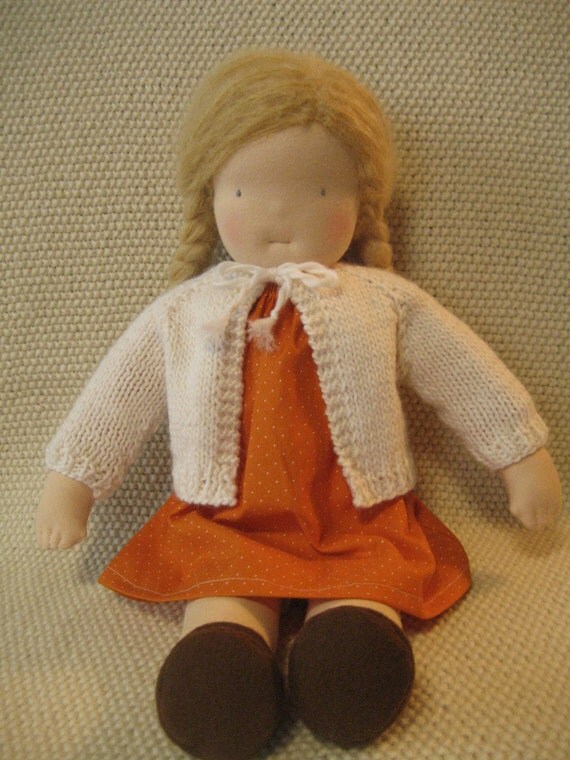 She'll be sitting with her crown that's just like E's birthday crown (which we ordered a couple of years ago when we had Z's doll's made) in the birthday girl's chair, rainbow silks adorning it, ready to greet her on that special morning. Now Z's "Winifred" will have a friend, a sister, if you will. I wonder which name E will give her.
Another idea we did have for E was a set of red (or another color?) tools that are real--that have some weight to them. She seems to really enjoy how things work and would probably like to work on real hammering and what not.
For Z, it's a bit harder. There are these
weighted baby dolls
that seem really nice, but I don't know if she'd appreciate them or not? They are remarked on as being very realistic and calming--2 or 2.5 lbs and more like holding an actual baby.
There are dress up supplies from Sarah's Silks that I've been eyeing too. These
veils
are so pretty, and I've considered the blue-rainbow
fairy skirt
. She also has nice
cotton cloths
.
Some games/puzzles/crafts are also on the amazon wishlist we have for the girls. If we don't get one particularly strong gift, we'll do a few smaller ones. Or maybe less? (After all, we're working on that.)