The following books are with us and have been for a while. They're special for various reasons, and we wanted to share them because they continue to be so. (These aren't our Christmas list, of course, but there could be some cross over with some of these authors. The Christmas books would have to be another list.)
Crafty Chloe
--two books in the series so far. You might know Heather Ross (illustrator) for her beautiful fabric designs. :)
Sonya's Chickens
--Phoebe Wahl is an amazing artist--we have her prints all over the house and her calendars. The story is precious and deals with nature's seasonal realities of life and death.
Heidi Huebner's
two books: Peter and the Owl and Lily and the Fox. :)
You Choose
--generally out of print, really interesting conversations to be had as your child thinks about all their dreams/ideas and their futures. Our girls have even made a pretend game out of it that involves dismantling almost everything they own and then begrudgingly cleaning up afterwards.
Woolbur
--the gift of emergence! Such a precious tale of letting kids grow up and develop as nature intends.
Too Many Toys
--ever want your kids to relate to the idea of decluttering or managing our things in a thoughtful way? This book is nonjudgmental and fun, and it really does help to get a handle on the fact that most of us have WAY too much stuff.
Brambly Hedge
--all these little books/tales are delightful and very seasonal.
Enid Blyton
--great author and we really like her four bedtime-oriented books.
Flicka Ricka and Dicka
--simple but word-rich stories about simple themes with independent children driven by natural feelings and good values. The author has a boy series too with triplet boys.
Jan Brett
--amazing author/illustrator. We just get captivated by the whimsy and beautiful art there.
7 Year Old Wonder Book
--very imaginative stories!
Elsa Beskow
--we especially love the small versions of the books. The stories are old fashioned and have a little risk/danger sometimes. But there's a kind of innocence to them.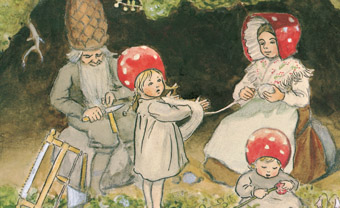 Daniela Drescher
--such beautifully illustrated books with fun details--simple stories too that emphasize the seasonal
Patricial Polacco
--such heartfelt stories. I end up crying half the time!